Snow Day
While I made plans last week for the coming weekend, the weather had different ideas. I should know better than to make plans in the middle of the winter since I live in Ohio. Snow, ice, and windy conditions make planning irrelevant.
On Superbowl Sunday, we accumulated nearly a foot of snow. A regular snow day does not mean much to a work-at-home mother whose children are not in school yet, but a weekend snow day means my husband is outside trying to clear it all away for the coming week. He spent many hours with the snow blower and the kids were fascinated.

We spent some time playing in the snow which my daughter loves and my son, well, I'll let him show you how he feels about it.

He was frequently falling over while trying to trudge through the snow. His struggle reminded me of this: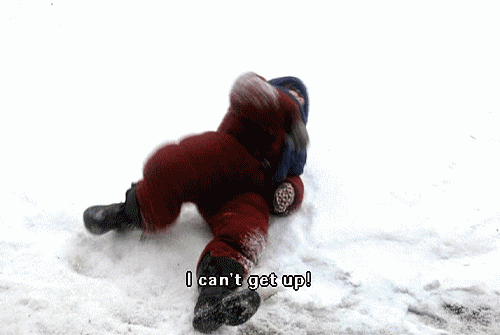 After some hot chocolate and some cuddling under blankets, Maddy and I headed back out. This girl loves the snow. Anytime she sees snow on the ground, she declares, "It's Christmas!!" I hope that spark of life never leaves her face.

We ended the day with a Pinterest idea. Have you ever heard of snow icecream? It doesn't seem possible that icecream made from snow could be so delicious, but it is! It almost makes snow useful to me. I used the recipe from Gimme Some Oven: http://www.gimmesomeoven.com/how-to-make-snow-ice-cream-recipe/
The results from the audience were mixed.
Two thumbs up!
I promise he is happy most of the time.
I love what snow days do for most families. It's a time to slow down and be together. A time for laughter, snuggles, and new memories. Maybe that is why snow makes Maddy think it's Christmas – because it feels like it when we are all together.
I was able to make new memories with my children on Sunday that I may not have been able to make without the massive amounts of snow. As for the Superbowl? Well, we had already had a full day.

How did you spend Superbowl Sunday?
<3 Jamie
Tags In
Jamie
Hello, friends! I am an amateurish writer, mother to two, and proud wife of a hard-working man. I enjoy a good cup of coffee, watching and discussing the Walking Dead, and people who live the Ron Swanson life. I love to share sensory activities for younger children, how to style I Bambini Clothing, and general mothering joys and woes. Much love to you and yours! <3
This error message is only visible to WordPress admins
Error: API requests are being delayed for this account. New posts will not be retrieved.
There may be an issue with the Instagram access token that you are using. Your server might also be unable to connect to Instagram at this time.